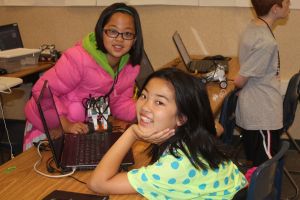 ThinkBridge Summer Camp 2021 will open for enrollment April 23, 2021 until June 15, 2021 . Late registration will follow, and continue until enrollment is filled. Thank you in advance for your interest!
Campers eligibility: student(s) must be entering at least 1st grade in Fall 2021 and no older than the completion of 6th grade by June 2021.
Camp dates: Monday, June 21, 2021 – Friday, July 16, 2021. July 5, 2021 off for Independence Day
Open House Event for parents, family and friends: Thursday,July 14, 2021 5:30 p.m. Vallemar School.
Camp Hours: 8:15 am-12:20 pm. Our camp is a half-day camp. If you would like information about low-cost childcare at City of Pacifica Child Care Services at Vallemar School following our camp hours, check childcare availability through Pacifica Parks, Beaches, and Recreation. Please contact 650 738-7381 for information and for reservations. Campers are escorted next door each day from our site on the Vallemar campus to the City of Pacifica Childcare site by Childcare Staff.
ThinkBridge Summer Camp Location: Vallemar Elementary School,  377 Reina del Mar, Pacifica, CA 94044
Regular Registration:
1-Camper:$800, 2-Campers same family:total $1550, 3-Campers same family: total $2300
For Regular Registration, we require a 50% deposit to hold your registration. Remaining full payment due by June 15, 2021. Space is limited to first-come, first-serve basis. No refunds will be issued after June 15, 2021.
Registering? We ask for you to do two things: 1) complete the registration form below and return to psv.director@pacificasd.org OR by regular mail to: Pacifica School Volunteers, 375 Reina del Mar, Pacifica, CA 94044, and 2) send payment for registration in order to secure your camper's place. Final payment will be due June 15, 2021.
ThinkBridge Registration Form 2021 here: Think Bridge Summer Camp 2021 Application
For payments, checks are payable to Pacifica School Volunteers, 375 Reina del Mar, Pacifica, CA 94044, or click the secure Paypal button to pay with credit card below.
For Online payment for ThinkBridge Summer Camp 2020 payment options are below:
Scholarships are available to families with demonstrated need. Please contact our office, 650-355-9432 or reach our Director, psv.director@pacificasd.org or psv.director@gmail.com for information.
Thank you for Registering your Camper for ThinkBridge Summer Camp 2021! Along with your payment, please be sure to send the registration form to us as well, via email to psv.director@pacificasd.org OR to our address, PSV 375 Reina del Mar, Pacifica, CA 94044
We look forward to a great summer together!